So, back at the beginning of May I signed up for: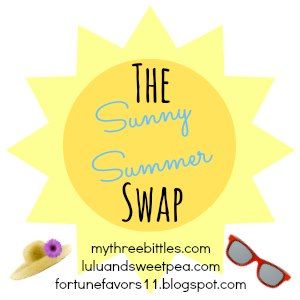 Basically, you get paired up with someone and you have a $25 limit to spend on anything summer-related you want. You learn about your partner and sent them a swap filled with things they'll love that'll help them jump into summer!
My partner is 34-year-old mother of three, Dara of
Not in Jersey
. We swapped Goodreads accounts, and I read through some of her blog. She posts lots of mom related things as well as crafts things and pictures of her family. It was really fun getting to know her!
We decided at the start that we'd send each other our swaps fairly early because we were both leaving town, so I received my box on the 28th.
I got:
This beautiful card set with a colorful parrot on it
Three pairs of earrings: little birds, dangly balls, and butterflies
Essie Turquoise and Caicos nail polish
Two Stephen King novels: Misery and Thinner
And these cute little bird clothespins
I'm not 100% sure what I'll do with the clothespins yet. I might buy little magnet strips so I can use them on the pretty magnet board my best friend made it. I think they'd go nicely with it.
This blog swap was tons of fun! I'm super excited to partake in the next one Melissa does, and I love her blog! Make sure to check it out at
Lulu and Sweet Pea
.